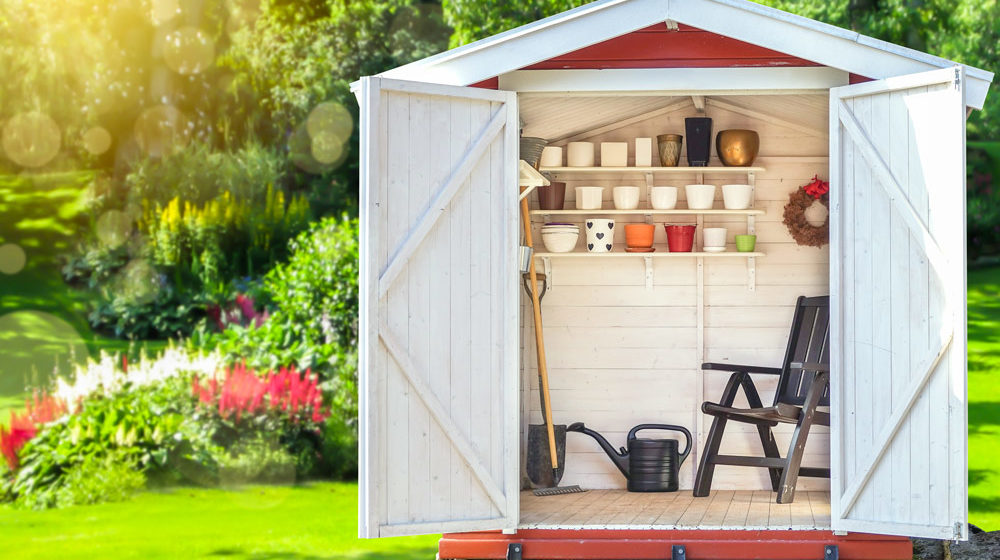 When You Need Outdoor Storage
If you need places to store your outdoor stuff, what are your options? We cover some of them in this article: deck boxes, outdoor cabinets, small sheds, large sheds, shipping containers, and carports. Look for solutions that resist rot and protect your belongings from weather and burglars.
If you want to keep your outdoors tidy, storage spaces are necessary for corralling dirty tools, lawnmowers, clutter, and toys that belong outside. When evaluating an exterior storage solution, you must consider three factors:
Is it built of material that resists rot?
Will it keep the weather out?
Is it secure?
Limiting your search to options that meet those criteria will ensure that your unit will last and that it will keep your possessions safe.
Here is our list of outdoor storage options that can flex with your size and price requirements. All are sold at home improvement stores.
Small Storage Solutions
A deck box or outdoor cabinet is an ideally sized unit for a back porch or patio. It can blend with existing furnishings without being overbearing or in the way.
A deck box's capacity is measured in gallons. A very small container holds about fifty gallons and averages $30 to $50. Deck boxes can be as large as 150 gallons or more. A 200-gallon box typically costs around $200.
An outdoor cabinet is a similar option that provides a taller storage space without taking up much horizontal space. For example, a two-foot by two-foot base takes up little floor room, while the eight-foot height allows for tool storage, rakes, brooms, and other long-handled objects. Cabinets run an average of $100-$400 and come in a wide range of sizes and shapes.
Medium-Sized Storage
If deck boxes and cabinets are too small for your needs, consider a backyard shed. Available in any color combination and a variety of materials and styles, a prebuilt shed is a low-stress, weatherproof option big enough to fit lawn equipment and many tools.
Small sheds range in size from about 5'x5' to 10'x10'. Five-foot by five-foot sheds usually cost between $400-$500. A durable rubber and plastic composite construction keeps water and weather out of the top, bottom, and sides. Some sheds are made of metal and others of treated wood.
Prices increases at a rate of about $200 per foot added to the width and depth.
Large Storage Options
Sheds come in every shape and size, so if you'd like a larger shed, you can get one, but be prepared to pay $1500-$2000. Many sheds come with optional installation for a fee.
For a similar price, used shipping containers can be bought and even delivered. These are watertight 40-foot-long metal cargo containers. Shipping containers not only keep your items safe but also protected from falling trees, storms, and burglars. Shipping containers come in smaller sizes for a couple of hundred dollars less if a full-sized one is too big.
For a more casual outdoor storage solution, consider erecting a simple carport. Four-inch by four-inch posts, pre-made trusses, and tin roofing create a stable, covered area suitable for sheltering cars, trucks, and trailers. This do-it-yourself project allows for the size and height to be completely customizable. Hired help is cheap and you will get your carport up in no time. (Check with appropriate neighborhood and city authorities to verify that the structure is permitted.)