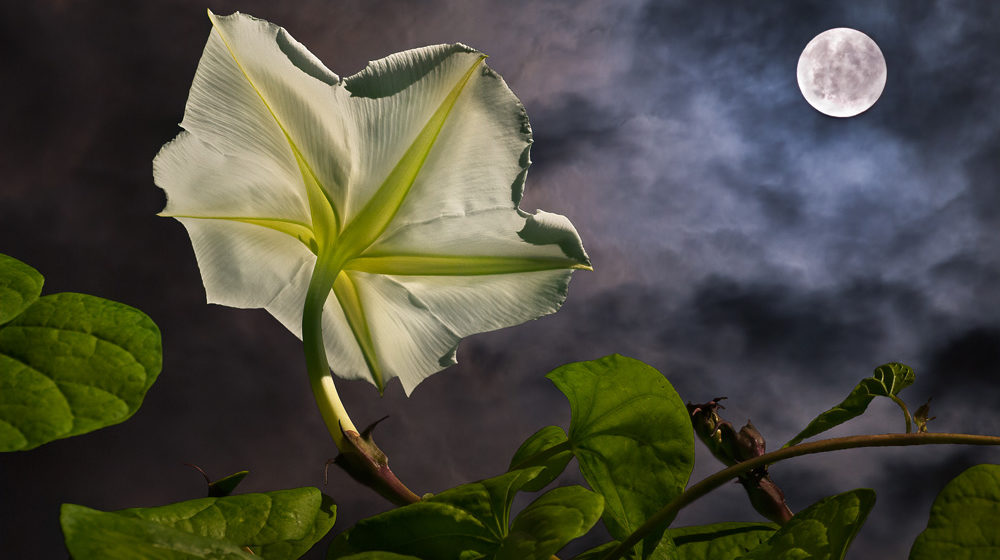 The Magic of a Moonlight Garden
Create a moonlight garden featuring plants, hardscaping, and accessories colored in whites, silvers, and other cool colors that reflect the light of the moon. Choose fragrant flowers and water features to engage the senses, making an intimate oasis for nighttime meditation, walks, or conversation.
Do you ever wish you could enjoy your garden without the summer sun beating down on you? Even at the end of the day, Florida's summer heat can be unforgiving. Our solution? A moonlight garden!
Moonlight gardens feature plants, hardscapes, and accessories colored in whites, silvers, and other cool colors that glow in the light from the moon. Fragrant flowers and water features engage the senses. The result is an intimate and magical sanctuary for nighttime meditation, walks, or conversation.
History of Moonlight Gardens
Moonlight gardens have a long history, going back to meditation gardens in ancient China and the "Mahtab Bagh," a garden attached to the Taj Mahal in the 1630s. They were popular during the Victorian era and then emerged in the U.S. in the late 19th and early 20th centuries.
Choosing Plants
When it comes to plants for your garden, think of the colors that will glow in the light of the moon: white, silver, and cream, and soft colors like pale blue, buttery yellow, light lavender, or pastel pink.
Draw more attention to each plant's beauty and unique characteristics by selecting plants of various heights, shapes, and textures. For example, incorporate trees, vines, small shrubs, and flowers of different growing patterns into the space.
Our senses are heightened at night, and a stunning moonlight garden will have more than just visual appeal. Choose flowers with fragrant blooms to enhance the experience of a nighttime stroll through the garden.
Here are some suggestions to help get you started:
Moonflower (a night-blooming morning glory)
White roses
Acidanthera
White impatiens
Evening primrose 
Blue-leaved hosta (North Florida only) 
Proper Placement is Key
Before any planting can begin, choose the location where you'll install your garden. Since its light, pale, and cool colors are striking at night and not during the day, consider creating your moonlight garden as part of a larger one.
Make sure to choose an open area where the moonlight can illuminate the garden. Be aware of nearby trees that will cast shadows.
Think about those nights where the moon is not visible in the sky. You may keep the garden near an indirect light source, such as a porch light or a window, or install soft path lights or even delicate strands of white Christmas lights.
More Than Just Plants
Careful selection of hardscaping, pathway materials, seating, and other features will bring the garden together.
Incorporate light hardscaping that will stand out in the foliage of the garden. Fill spaces with light-colored stones and pebbles, train vines up a white trellis or arbor, and use light planters throughout the area.
Create a pathway through the garden so that you can fully (and safely) enjoy the space. You may consider using gravel or light flagstone and perhaps soft lights to line the path.
Water features like small fountains or waterfalls reflect moonlight and create a calming sound, another soothing sensation for you to enjoy as you relax your oasis.
Make sure to provide seating so that you can take it all in! A simple bench, swing, or a small table with chairs will allow someone to join you for an evening chat or glass of wine.