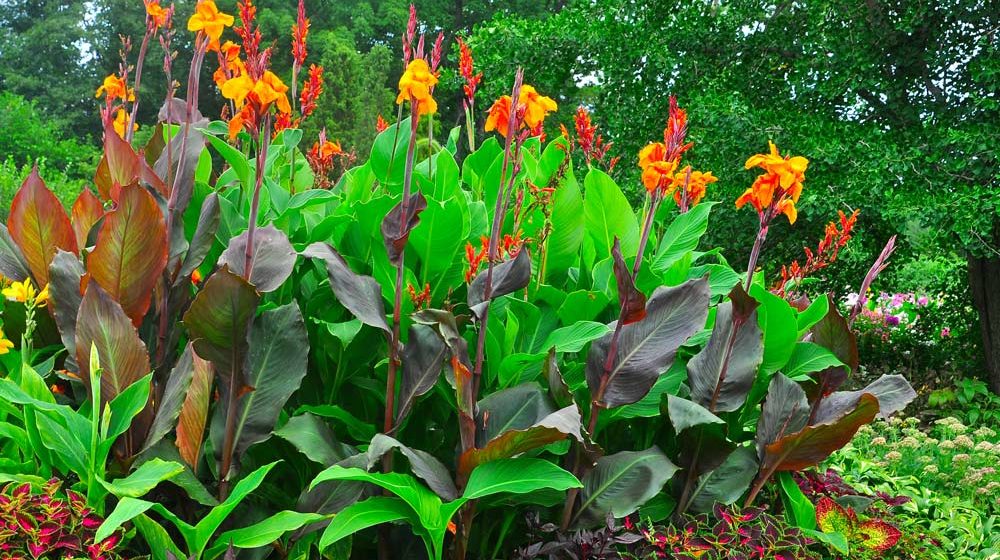 The Best Bulbs for Every Part of Your Landscaping
Most Florida homeowners have properties with a variety of sun and soil conditions. There are great bulb options for just about every area of your landscaping. Consider Amazon lilies for shade, cannas for perpetually moist soil, and amaryllis for drier spots.
As we discussed in our last blog, the time has come for selecting warm-weather bulbs, preparing the soil, and beginning to plant.
Does your landscaping include dry spots and damp ones, sunny areas, and shaded patches? Bulbs can be perfect for any of these spaces.
Best Bulbs for Shade
While no bulbs will do well in heavy shade, some can grow in either sun or shade, and others prefer low light levels.
Amazon lilies, also called Eucharist lilies, not only prefer shade but will be damaged in full sun. These beautiful lilies reach two feet tall, with large leaves growing up from close to ground-level. They do best when watered weekly in spring and summer, though they tolerate short periods of drought. These lilies are hardy and will grow back even if the foliage suffers damage from winter freezes.
Blood lilies thrive in shade or some dappled light and make wonderful accent plants. The 6-inch diameter blooms on these striking plants are inflorescences: clusters of many small, bright red blossoms. Blood lilies benefit from weekly watering during the growing season and drying out between seasonal rains when dormant. They multiply quickly, making them an excellent option for containers and propagating.
Caladiums are a popular bulb among Florida gardeners. These plants are hardy, do well in both sun and shade, and produce gorgeous heart-shaped leaves in various colors. They need to be watered every three to four days. Once the previous year's tubers begin to grow in March, they will continue to produce through October.
Achimenes, kaffir lily, and walking iris are other bulbs that prefer light shade over full sun.
Plant These Bulbs in Moist Areas
What about those spots that are perpetually damp? Try one of these bulbs for soil that rarely dries out.
Cannas include several varieties of sun-loving plants that grow anywhere from three to fifteen feet tall. Commercial cultivars like Tropicanna and Black Knight do well in the rich, moist, well-draining soil of most garden beds. Wild varieties, like the golden canna, are wetland species that thrive in water gardens and boggy areas (like along ponds and lakes).
Alocasia, one of the plants referred to as "elephants ears," will add a tropical look to any Florida garden. These plants do well in full sun or shade. Keep in mind that while alocasia prefers moist soil, it spreads aggressively in soggy soils and waterways.
These bulbs also grow well in moist soil: Louisiana iris, walking iris, and caladium.
Bulbs to Grow in Dry Spots
While watering is still beneficial for any of these plants, they grow just fine in landscaping areas that receive water only from rainfall.
Amaryllis plants are versatile, as they will grow in full sun or light shade and do well in garden beds or containers. While weekly watering through the growing season is helpful, amaryllis tolerates drought well. As a matter of fact, dried soil between watering during the fall and winter encourages beautiful spring blooms.
Daylilies are immensely popular throughout Florida because of their hardiness, long blooming period, and many available varieties of shapes, colors, and growth habits. Daylilies like moist soil while establishing themselves and then will tolerate drought. These plants multiply quickly and are easy to propagate.
These bulbs will also do well in similar conditions: blackberry lily, crinum, lapeirousia, rain lily, society garlic, and spider lily.