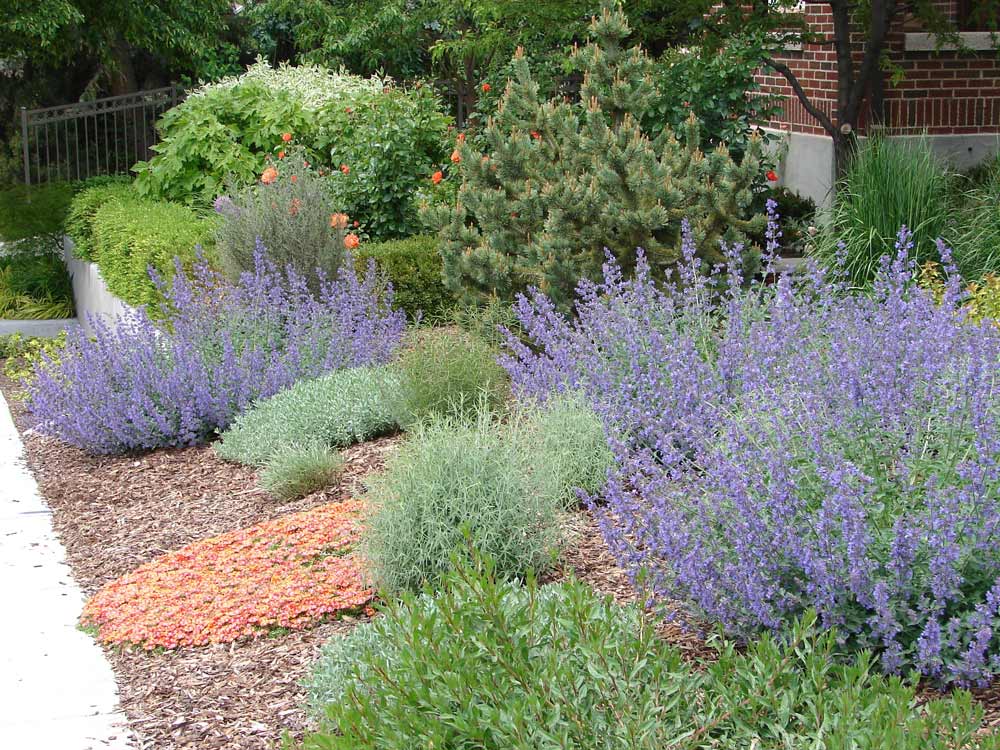 The 4-1-1 on Florida Xeriscaping
Xeriscaping is the creation of an environmentally responsible landscape through the planting of drought-tolerance turf, flowers, shrubs, and trees. It is a concept that incorporates proper soil selection, plant placement, and watering methods to produce a landscape that is sustainable and eco-friendly.
Does the word Xeriscape conjure up visions of grassless yards covered with small white rocks and bristly cacti? While that is indeed one example of a xeriscape, it's not the definition of this form of landscaping.
The term Xeriscape, coined in 1978, is a registered trademark of Denver Water. Over the past three decades, the term has merged into common gardening vocabulary and is now synonymous with the concept of resource-efficient landscaping. The word comes from the Greek Xeros, meaning dry, and the word landscape.
Xeriscaping is a landscaping practice that makes use of plants that require less water. It leverages watering methods, plant and soil selections, and plant grouping to withstand drought conditions, conserve water, minimize fertilizer needs, and reduce maintenance.
Florida homeowners, property owners, builders, and developers that institute xeric designs in landscaping can enjoy beautiful native plants and trees that are a natural environmental fit. Native plants, while still requiring water and sometimes also fertilizer, are already adapted to Florida's conditions. Once established, they require minimal watering and are naturally pest resistant.
The University of Florida Extension recommends incorporating the following elements for a successful, resource-efficient xeriscape:
Group plants by water needs
Even native plants vary in their drought tolerance. There are native bog and water-loving plants, plants that survive drought conditions, and plants that thrive on salt water. Group them together for the delivery of the minimum amount of water needed.
Use drought-tolerant grass
Bahia, Bermuda and Zoysia are all Florida-friendly turf grasses that will go dormant in drought conditions and revive when watered.
Use low-water plants
These plants can survive drought conditions and grow in soils that do not hold water well.
Mulch in place of turf
Layers of mulch over ground and around plants reduces evaporation. A xeric landscape designed with areas of mulch instead of turf requires less irrigation, fertilization, and maintenance.
Native Florida Plants
Many native Florida plants are great for xeriscaping. Here are a few:
Marlberry: high drought-tolerant shrub, zones 9-11, no pest problems, attractive foliage, white flowers all year, high salt tolerance
Sweet Acacia: high drought-tolerant shrub/tree, zones 9-11, 10-25' tall, yellow flowers all year, nectar plant for beneficial insects, medium salt tolerance
Seagrape: high drought-tolerant plant, 3' shrub on the coast, 35' tree inland, white flowers in spring, zones 9-11, high salt tolerance
Buttonwood tree: high drought tolerance, zones 10b-11, silver leaves, grows to 50' tall.
Weeping Lantana shrub: medium drought tolerance, zones 8-11, small flowers all year, 3-6' tall
Bluestem grass: high drought tolerance, zones 8-10, flowers in the fall, grows 3-10' tall
Blanket Flower (Gaillarida): high drought tolerance, zones 8-11, yellow/red flowers in summer, 1-2' tall, attracts butterflies, perennial
Swamp Sunflower: medium drought tolerance, zones 8b-10, yellow/brown flowers in fall, 2-4' tall, attracts birds and butterflies, perennial
Beach Sunflower: high drought tolerance, zones 8b-11, yellow/purple flowers year-round, 1-4' tall, attracts birds and butterflies, high salt tolerance
Want help creating your own xeriscape? The Florida-Friendly Landscaping Program exists to help people identify and use low-maintenance plants and to institute landscape management practices that are sustainable and environmentally friendly. For more information on this program, visit http://fyn.ifas.ufl.edu/index.html.