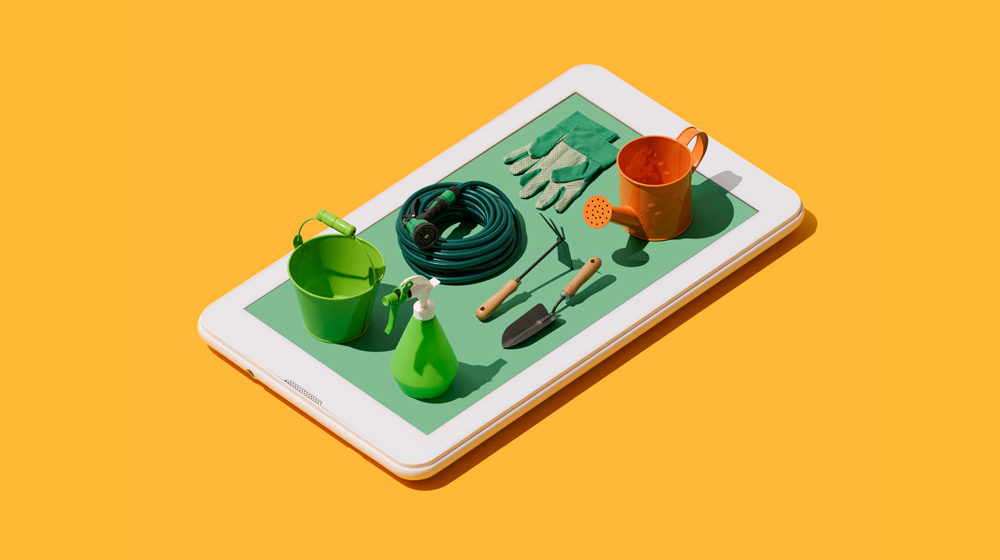 Smartphone Apps to Up Your Landscaping Game
Landscape planning and care is made simpler and more efficient with the help of useful smartphone apps. Browse landscape and patio design ideas, access plant reference guides, and connect with landscaping pros. Make your life easier and check out our favorite apps.
Smartphone apps have given us access to specialized information at the touch of an icon button. We covered our favorite gardening apps in the last blog. In this article, we cover apps for the landscapers out there!
Landscape planning and care can be simpler and more efficient with the help of useful apps.
Check out our favorites.
Landscape Design with iScape
The hardest part of landscape design for many homeowners is visualizing their landscaping and believing that the design will look as good installed as it does on a piece of paper.
iScape takes out the guesswork by letting you add plants, trees, walkways, and other features to an existing photo of your property. Develop your vision and share it with family members or your landscaper so that it becomes a reality.
Growing Guide: Landscaper's Companion
Whether you're looking for the right specimen tree or doing a total landscaping makeover, having a reference guide on hand makes your tasks infinitely easier.
Landscaper's Companion has a database of over 26,000 plants and trees from 17 different categories with detailed information on each. Use this app's advanced search feature to find plants by their names, growing conditions, or features like color and height.
Identify Unknown Plants with iNaturalist
We've all been there: we see a plant we love, cannot identify it, and must give up seeing it in our yard simply because we don't know how to find it.
Here is where plant identification apps come in. We particularly like iNaturalist.
iNaturalist has a unique approach to identification: it's helpful, interactive, and contributes to biodiversity science, all at once.
Use iNaturalist to take pictures of unknown plants or critters and receive automated suggestions from the app. You can then discuss your observations with community members and experts to confirm identification.
Your findings might even be added to data repositories and used by scientists to better understand the biodiversity of these organisms!
Patio Design with Houzz
Dreaming of a new or updated patio? Houzz may be just what you need to help with your brainstorming. Search for patio ideas, filter by style and size, and browse high-quality photos to your heart's content. Save pictures to your own "ideabook."
Like a plant identifier for home products, this app allows you to take a picture of what you like and then see where to find similar items from stores and websites. Use the app to visualize furniture and plants within a design and to find professionals in your area.
Use LawnStarter to Find Landscaping Pros
Looking for and evaluating landscaping professionals can be tricky, but the process is streamlined with LawnStarter. Get quotes, view pricing, and schedule services all within the app.
Companies on LawnStarter must have liability insurance, so you can rest assured that you're covered. You can make payments through the app, but you won't be charged if you're not satisfied with the service.