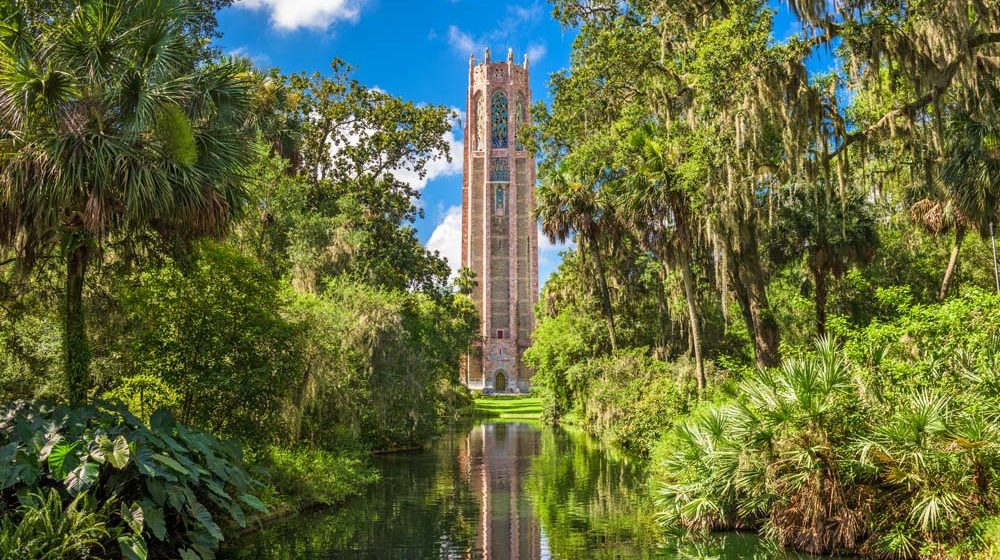 Safe Winter Outings: Visit Public Gardens (Part 2: South Florida Standouts)
Visiting one of Florida's public gardens is a Covid-safe outdoor activity over the winter months. These gardens offer peace, beauty, and inspiration, and there is sure to be something for everyone in the family to enjoy. Consider visiting one of these standout gardens of South Florida.
As winter begins, your ideas for safe outings may be running low. Too cool for the beach but too crowded at theme parks? Thankfully, Florida offers many outdoor activities that don't involve crowds or swimsuits. Visit a public garden to experience peace and beauty, and maybe even find inspiration to refresh your landscaping.
In our last blog post, we highlighted a few outstanding public gardens of North and Central Florida. Let's dive into the best gardens south of Orlando.
South-Central Florida: Bok Tower Gardens
Bok Tower Gardens in Lake Wales is a 250-acre property featuring spectacular gardens, an ornate bell tower (called the Singing Tower), and a 20-room historic mansion. View the endangered plant and pollinator gardens, visit the reflection pool and the sunset overlook, and enjoy some of the 126 bird species found here.
The Singing Tower at the Gardens is a National Historic Landmark that houses a full carillon (an instrument of 60 bells). Did you know that there are only 185 carillons in all of North America? Attend one of Bok Tower Garden's regular carillon concerts for a truly unique experience!
Bok Tower Gardens is a place for the whole family to enjoy. Pinewood Estate, an impressive Mediterranean-style mansion, sits in the heart of the Gardens. Though tours are currently unavailable, explore the expansive gardens and marvel at the home's exterior. If you have younger children, walk the 1.5-mile educational nature trail or stop at Hammock Hollow, a children's garden with areas for playing, exploring, and creating. Bring food and drinks and enjoy a picnic on the grounds.
Southeast Florida: Morikami Japanese Gardens
Morikami Museum and Japanese Gardens, found in Delray Beach, feature a museum showcasing Japanese art and culture, a bonsai collection, and six distinct gardens. The museum hosts rotating art exhibitions and a tea house.
The gardens at Morikami are considered living exhibits that extend from the museum's galleries and are inspired by distinct styles of Japanese gardens dating as far back as the ninth century. Welcome the calm and quiet as you stroll through the gardens, pondering the deliberate designs of each. Visit the bonsai collection and consider attending a bonsai class to learn more about this ancient tree-sculpting practice.
At the Morikami Japanese Gardens, you will not find signage describing each plant type, as these gardens are designed to provide restoration and freedom from distraction. Enjoy the peaceful walk through Morikami and embrace the introspective and mind-clearing sensations you are sure to experience.
South Florida: Fairchild Tropical Botanic Garden
The 83-acre Fairchild Tropical Botanic Garden, founded in 1938, features a tropical flowering tree arboretum, 700-foot long pergola, tropical fruit pavilion, collection of succulents, sunken garden, and more. Fairchild is committed to community enrichment, education, and conservation.
The entire family is sure to enjoy the butterfly gardens, 2-acre rainforest, rare plant house, and interactive children's garden found at Fairchild. The Garden even hosts "Dog Dates" with special dog-friendly activities for you and your pup.
These are only a few of the spectacular gardens that Florida has to offer. No matter where you live, there is sure to be a nearby garden worth visiting. Check for event changes and the garden's COVID-19 guidelines before visiting, and don't forget your masks!