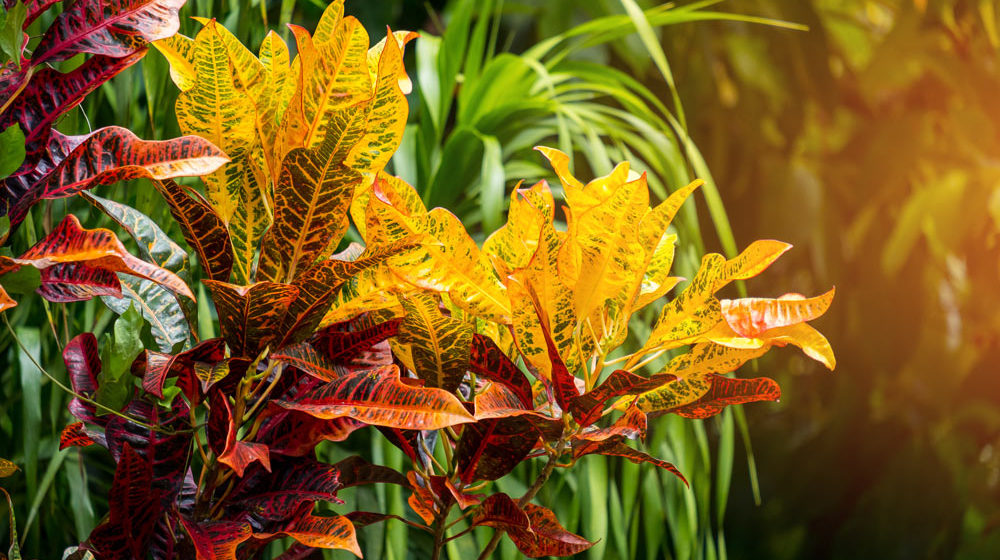 Paint Your Property with Plant Color
Splash your property with color by placing blooming plants and shrubs in beds, borders and containers. Grow shrubs with colored leaves for year-round hues and impact. Plant bromeliads—tropical shade-lovers that produce blooms from delicate to showy to phantasmagoric.
Homeowners in Florida are blessed to have a huge variety of colorful plants to choose from to add pop and beauty to their yards. In fact, the choices can be overwhelming.
We divide this guide into four sections describing categories of plants that you may want to consider as you think about coloring your landscape.
Plants with Colorful Foliage
Add varied hues to your landscaping by growing plants that have colorful leaves. The leaves look the same year-round so you can be assured of continual color.
Try these shrubs:
Snowbush or snow-on-the-mountain (pink and white leaves)
Loropetalum (deep purple leaves)
Gold Mound (lime green/yellow leaves)
Croton (variegated yellow, red, purple, and green)
Schefflera (the yellow/green variety)
Flowering Shrubs and Plants
Some shrubs and plants bear flowers. Some bloom for a few months of the year and others bloom almost year-round (especially in south Florida).
Check out these flowering shrubs and plants:
Ixora and Dwarf Ixora (vivid red, pink, orange or yellow clumps of flowers that display much of the year)
Bush daisy (yellow flowers; blooms almost year-round)
Plumbago (purplish blue flowers; blooms almost year-round)
Thryallis (yellow flowers; blooms almost year-round)
Hibiscus (red, orange, yellow, pink, and white flowers; blooms many months of the year)
Bougainvillea (red, orange, yellow, pink, purple, and white flowers; blooms many months of the year)
Bromeliads are a class of shade-loving plant, found in many tropical locations, that have green foliage and seasonal flowers. There are hundreds of kinds of bromeliads and their flowers range from beautiful to circus-like to downright strange. Some homeowners enjoy having a few select bromeliads and some like to display extensive collections.
Annual and Perennial Flowers
Annual flowers bloom throughout most of their life cycle and die within a year. They must be replaced. Perennials live for more than one year and bloom for months at a time. They need replacing less often. Annuals and perennials come in all kinds, shapes, sizes, and colors. Add these singly or in masses to beds. Grow them in containers placed in beds or on porches.
Go with Green, But Texturize
It's possible to have a stunning landscape full of plants that are only green. Here, variety, interest and drama are created through placing plants according to texture rather than color. Incorporate design elements such as tiers and stacking but focus plant selection and placement on leaf type and growth habit. The key in an all-green landscape plan is to grow different kinds of plants next to each other for contrast.
Taro leaves and elephant ears are plants with two- to four-foot-long leaves with smooth edges
Philodendrons also have huge leaves and some varieties have deeply indented edges
Robellini palms have delicate, symmetrically drooping fronds growing from the top of a trunk
Fountain grass grows in round clumps of thin, erect blades
Mondo grass is very short and can function as a ground cover
Ivy creeps and winds with tendrils and small leaves
Boxwood shrubs are compact and dense, with tiny leaves
You can create a landscape plan with endless interest simply by mixing and matching shapes, heights, and growth habits of different green plants, shrubs, and small trees.
Wrapping It Up
There are tons of flowering plants and shrubs waiting to be added to your landscaping. Don't be afraid to experiment. If one plant doesn't work out, try another until you find the one(s) that work best!