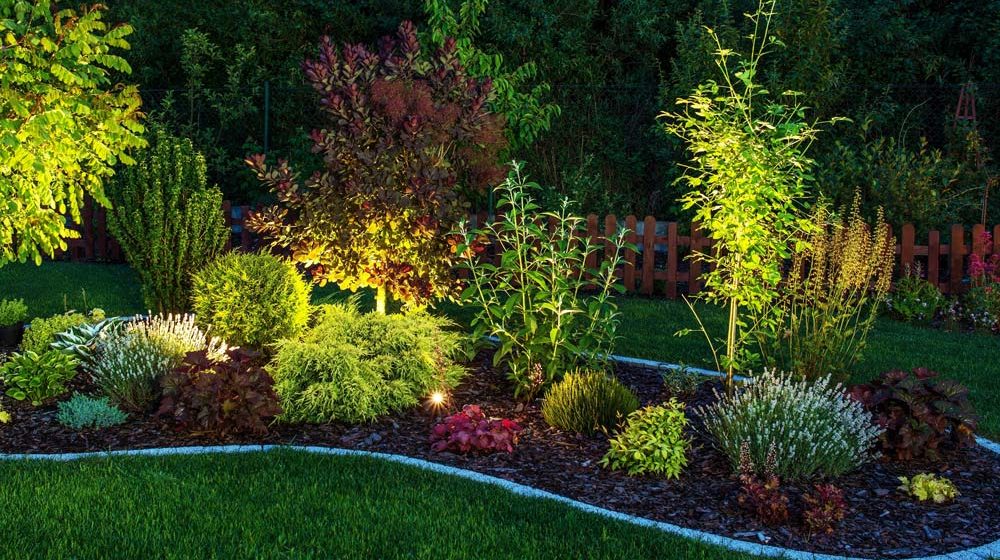 Landscape Lighting for a Safe, Beautiful Exterior
Add lights around your house to deter burglars, prevent falls, and add beauty to your landscaping. Not all lights require an electrician. For example, solar pathway lights can be put to work as soon as they come out of the box.
On a scale of one to ten, how would you rank the outdoor lighting around your property? A value of one might mean you've got a front porch light. A value of ten might mean you've got a front porch light plus floodlights, path lights, under-tree illumination, and lamp posts at the end of the driveway.
While your home doesn't need to be a blazing beacon, a certain amount of exterior lighting can make a big difference for your home in terms of security, safety, ambience, and curb appeal.
Security and Safety Lighting
Floodlights
No one wants to be robbed. Discourage burglars by illuminating the outside of your home with floodlights. If you're nervous about a giant electric bill, install motion sensors. The lights will only come on when the sensors detect movement.
Don't forget about your outbuildings. Install motion-activated flood lights around the perimeter of barns, shops, and detached garages.
Consider purchasing LED light bulbs instead of standard incandescent bulbs. LED bulbs are known for their longevity. They can last fifty times as long as incandescent bulbs. If you install motion sensors and LED lighting, your bulbs can last for years.
Do you need an electrician? Probably not. A general understanding of how to connect wires, run them through a sensor, and mount a fixture should be enough. If in doubt, however, reach out to a licensed electrician.
Pathway Lighting
A simple-to-install set of pathway lights can keep visitors from stumbling and falling on their way to your front door. These lights can enhance other pathways around your property as well. Even residents who know their properties benefit from having pathways lit up at night.
The easiest path lights to install are solar powered. They can be purchased inexpensively at a hardware store, a home improvement store, or online and delivered to your front door.
Solar powered path lights have a small solar panel at the top of the light that absorbs the sun's rays during the day. The stored energy powers the lights after the sun goes down. These lights are perfect for Florida homeowners since we enjoy sunlight many hours of the day year-round.
The advantages of solar-powered path lights are their affordability, ease of installation and zero-cost power source. They are essentially "plug and play," meaning they come fully assembled and need only be stuck into the ground. And sunshine is free.
The disadvantage of these lights is that they may not last all night. As their solar energy is released, it eventually runs out. On cloudy days the panels will absorb less light, resulting in less energy to power the lights that night.
Illumination for the Sake of Beauty
Landscape lighting adds surprising beauty and drama to a home's exterior at night. These lights sit low to the ground and shine upward. They are usually positioned at the base of trees, palms, and specimen plants.
Installing landscape lighting like this is easiest with the help of a professional designer and licensed electrician.
Landscape lighting significantly adds to a home's ambience and curb appeal.
Summing it Up
This is a good time of year to analyze your property's exterior lighting. Look at lighting on other properties or browse the internet for ideas. You can start small—i.e., add solar pathway lights—and build from there.