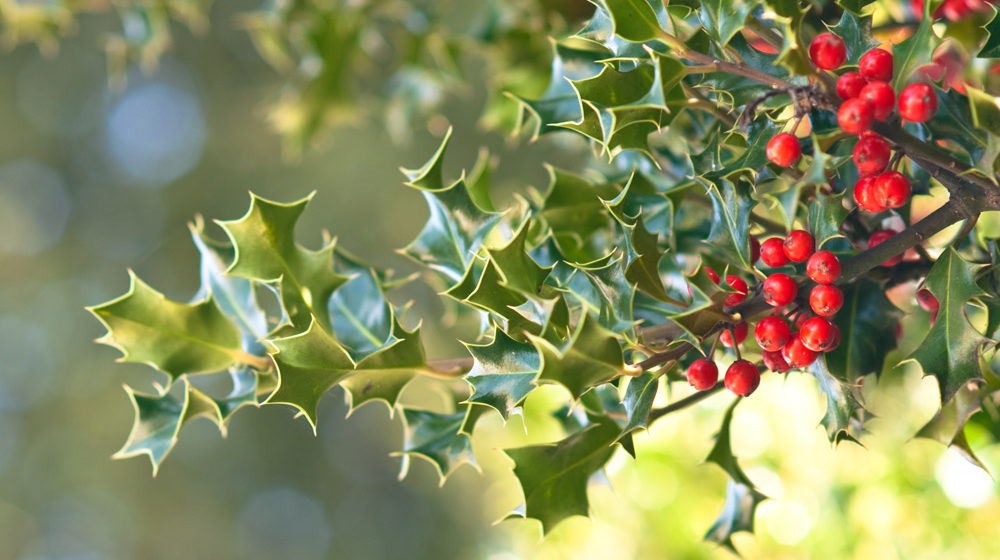 Holly: More Than a Christmas Decoration
Known for its bright red berries and distinctive leaf shape, holly is a low-maintenance, versatile plant that makes a wonderful landscaping addition. Holly has many varieties, several of them native to Florida, and can be cultivated as a small shrub, specimen tree, or privacy hedge.
The holly of Christmas carols and folklore boasts beautiful red berries amongst dark green leaves. While the holly that we associate with Christmas is usually in the form of wreaths, table runners, and accents around the home, this plant comes in numerous varieties that make an excellent addition to landscaping.
Holly in Landscaping
Holly is a versatile, low-maintenance plant that can meet a range of landscaping needs. Most hollies are evergreen. The Florida native varieties are what we associate with "Christmas holly," with bright berries and shiny leaves. Holly shrubs and trees are typically wind-resistant and survive hurricanes well.
Holly comes in various sizes and shapes and can be incorporated into just about any place in your landscaping.
Grow formal hedges along a driveway to create a stately entrance to the property
Plant a small tree in your entryway
Install high-growing hedges as a privacy border along a patio or property line
Hollies Native to Florida
Native to the Sunshine State are the Yaupon, Dahoon, and American hollies. The East Palatka Holly is a native hybrid of the American and Dahoon plants. These hollies are loved for their abundance of beautiful berries, which brighten landscapes and attract birds and wildlife.
Yaupon Holly
Yaupon holly is available in many cultivars and can be easily grown through hardiness zone 9B. You might choose to plant the dwarf, boxwood-like hedge to line a porch or drive. Alternatively, Yaupon holly can be grown as a dense privacy hedge or trained to grow as a small tree. A large-growing tree will reach 15 to 25 feet tall and is found in upright or weeping forms.
Dahoon Holly
The Dahoon holly is a hardy, evergreen tree that thrives throughout the entire state. This variety is native to swampy areas and does best in moist soil, though it tolerates dry soil with watering. The Dahoon holly generally reaches 20 to 30 feet. It will develop an open canopy in partial shade but a fuller crown and a cone-like shape when grown in full sun.
American Holly
The American holly, thriving in North and Central Florida, grows as a large tree or can be pruned into a hedge. The American holly tree grows in a dense, pyramidal shape and reaches 50 feet. It has a unique, white bark and is resistant to both flood and drought.
East Palatka Holly
The East Palatka holly, named for the town in which it was discovered, is a hybrid of the American and Dahoon hollies. It grows in a compact, conical shape and can reach 30 to 45 feet tall. This tree is a superb choice if you're interested in a manicured look, as it responds well to shaping. This feature makes the East Palatka holly a popular landscape selection.
Care for Your Holly
Most hollies prefer full or partial sun and acidic soil, though they generally will tolerate a range of light and soil conditions. These are low-maintenance plants that do not require pruning to flourish. Take note that only female hollies produce berries, and male and female flowers grow on separate trees. Consult with your landscaping company before you place a solo female plant in your yard.