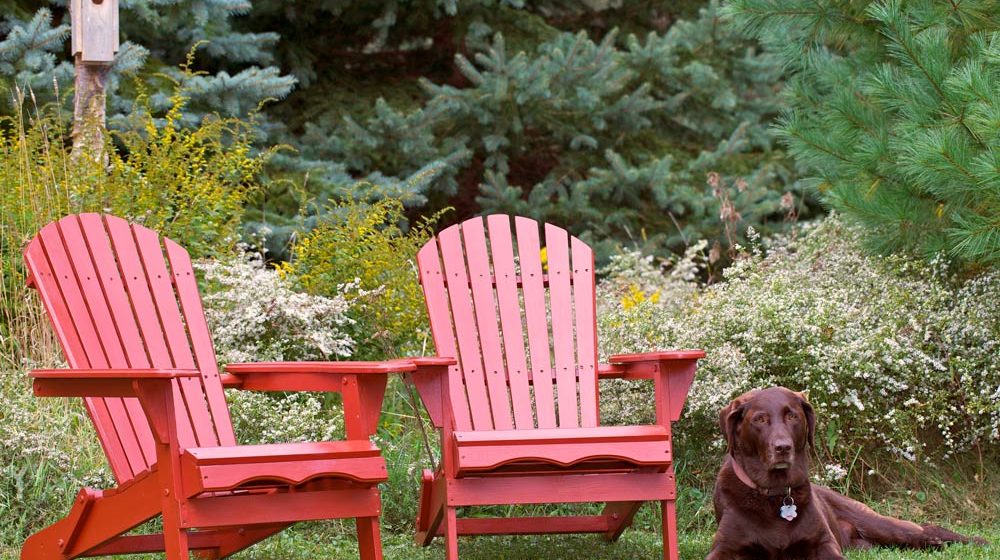 Five Ways to Add Color to Your Landscape
Transform your yard from a sea of green and brown into something spectacular by adding some color! From flowering plants to garden art to painted walls, here are some simple ways to brighten up your landscape and showcase your personality.
Are you bored by the way your landscape looks? Transform it from a sea of green and brown into something spectacular by adding some color! There are many ways to brighten up your landscape with organic, inorganic, and structural additions. Here are five simple things you can do to give your yard a facelift.
1. Add plants with colorful leaves or vibrant flowers.
The most obvious method of adding color to your landscape is to incorporate plants with bright leaves and flowers. This can easily be done by filling pots and planters with flowering plants, which can be moved and rearranged now and then to keep things interesting. Hanging planters filled with vibrant flowers will not only add color but will elevate it to a different height than your standard garden beds and flower pots.
Plants that flower nearly year-round, like Ixora, will keep your garden from becoming dull as soon as the summer ends. However, flowers are not the only option for adding organic color. Consider plants with dramatic foliage that contribute to your yard differently than typical green-leafed plants, and that will last longer than most of your flowers will.
2. Incorporate garden art into your landscape.
Garden art is a fun way to incorporate some pops of color into your landscape. There is a wide range of décor you can put in your yard that will brighten up the area, and what you choose will showcase your personality as well. You may place a simple flag in your garden, or you may go with whimsical glass balls, a beautiful birdbath, or meaningful statues.
Another impactful and straightforward option is to select colorful pots, either for decoration or to hold your plants. A bright pot amid mulch, terra cotta, and green leaves can change the look of your garden bed entirely.
3. Choose colorful patio furniture.
Vibrant patio furniture is not only attention-grabbing but practical as well. Painted Adirondack chairs, a bright bench, or a colorful table and chairs provide you with a peaceful seating area and also brings life to your landscape.
4. Install structures to add color and height.
Sometimes a structure may be the way to incorporate color and appealing design into your landscape. You can install something simple like an arbor to lead down a walkway or use a pergola to shade a seating area. Gazebos create intimate areas for visiting with friends and help to fill a space in the yard. You may even choose a practical structure like a shed, where you can store gardening tools and lawn equipment. Any of these may be brightly painted or covered in flowering vines to help them stand out.
5. Brighten up walls with paint or tile.
Painting an exterior or garden wall can create a burst of color and a contrast to the cement, gravel, dirt, or grass nearby. Consider the hues already existing in the landscape and choose a paint shade that will complement any plants and furniture in the area. If you have a patio or back porch, you may even incorporate decorative tile, which can be installed in stunning and eye-catching designs.
Need more ideas? Roam around a gardening shop for inspiration, visit a library or bookstore to look at gardening books and magazines, or check out inspiration websites like Pinterest.