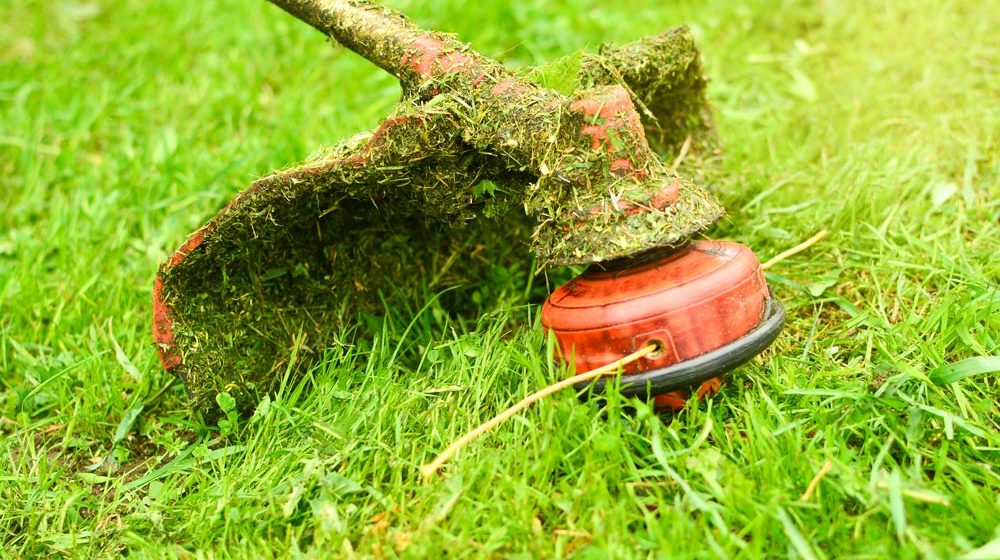 Edging–The Finishing Touch
Run an edger around beds and trees and along the sides of driveways and sidewalks to cut away encroaching grass and produce clean, finished, lines. Stick edgers and walk-behind edgers are powered by gas, battery, or electricity and cost from $100 to $800.
What is Edging?
An edger is a tool that employs a rotating blade to remove grass along a concrete edge cleanly. The edger blade fits between a concrete slab and the grass pressing up against it. When you run an edger around a property, it creates a sharp, precise line.
An edger can also be run around the perimeter of beds, even when no concrete is present. Defined beds and rings around trees create the perfect, finished look to any property.
Common Edger Designs and Input Power
Edger Styles
Edgers come in a variety of styles, with selection in the number of blades, power sources, design, and functionality. Which edger you choose comes down to preference and the functions you need the most.
Two common edger styles are available: 1) a "stick" design and 2) a walk-behind design.
A stick edger has a six-foot-long shaft with a small motor on one end and a rotating blade on the other.
A walk-behind edger may be more time-consuming to maneuver, but it will save on strain, as the motor and edger apparatus are mounted on a rolling platform. No weight on your back! Just start it up and push it around.
Edger Power Sources
Edgers may be powered by gas, battery, or electricity.
Battery edgers don't run out of gas or create noise or fumes, but they are susceptible to water damage and can quickly run out of juice.
Electric edgers will always be limited by how much cord is available, but they won't quit unless the electricity does.
Gas edgers get the job done but must be filled with the correct gas-oil mix and regularly maintained.
Getting the Right Edger for the Right Price
For a small yard with little edging, a walk-behind, corded edger would make the job easy and fast, for a price tag of less than $100.
For a regular-sized yard, with beds and concrete, a battery edger (walk-behind or stick) will allow you to freely walk about the area, edging here and there, to add the perfect finishing touch. This will cost $100-$200.
For bigger yards with many beds, trees, and concrete edges, use a gas-powered stick edger. It will never stop chopping unless the gas runs out. Unlimited in range, very powerful, and with a slick cutting edge, these models begin at $200 and can cost up to $800.
Tips for Edging and Maintenance
Keeping the edger blade sharp and whole will not only prolong the life of the edger but will also extend the life of the edge put on the yard. Letting the blade become dull or rusty will make each subsequent cut rougher, and this will make future edging more difficult. A box of edger blades will not break the bank, and replacing edger blades is a simple process.
Be sure you run the correct amperage through your electric edger or the correct oil-gas mix through your gas edger. Damaging the motor is a death sentence for any edger. Avoid this by following model-specific maintenance instructions found in the product manual.
Make sure to wear appropriate eye and foot protection.
Be prepared to handle neighbors with edging envy over how sleek your yard looks.