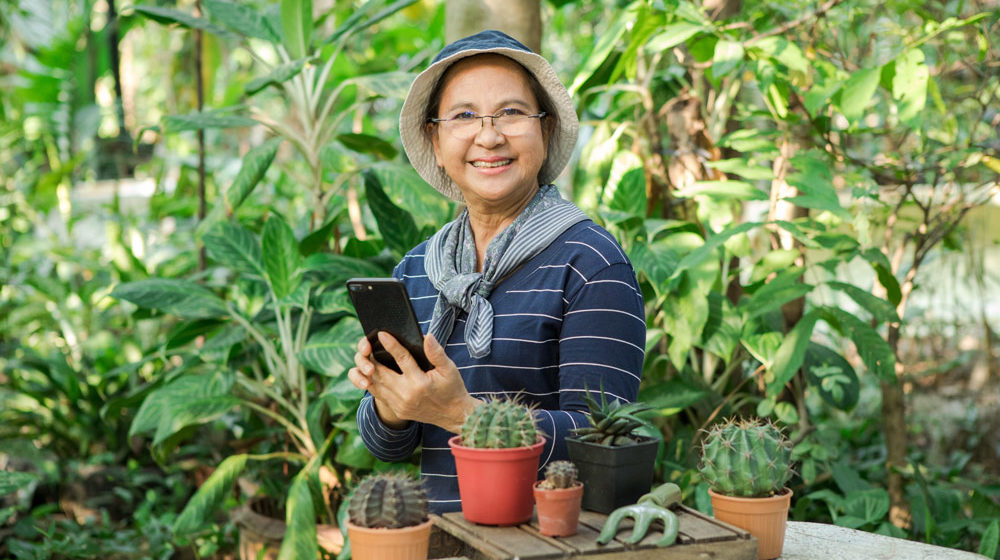 Awesome Apps for the Florida Gardener
A plethora of smartphone apps have been designed to support your gardening. Explore apps that will help you plan your garden layout, identify unknown plants, and calendar your plant care tasks. Explore growing guides and even share photos and advice with other gardeners.
These days, there's an application for everything. Whether you want to record a run, learn a new language, track your water intake, or watch funny videos, all you have to do is download a program onto your phone. App developers have created hundreds of ways to simplify everyday tasks, access entertainment, stimulate our brains, and more.
It only makes sense that there are about as many different gardening apps to give your green thumb a hand. We've put together a list of our favorite apps to support your gardening life! (And in our next blog, we'll tell you about landscaping apps.)
Garden Design: Garden Plan Pro
Before you get into the dirty details of plant care and tracking, you'll need to plan what you're growing and where you're growing it. Here is where an app called "Garden Plan Pro" comes in.
Garden Plan Pro will answer all your garden planning questions and assist you in creating the perfect layout. This app's drawing tools and plant database allow you to design a garden plan, and it gives area-appropriate planting and harvesting advice through the seasons.
Plant Identification: Garden Answers and Flower Checker
Gone are the days of Googling flower descriptors in hopes of discovering the name of that plant you admired on your recent walk. Plant identification apps take away the guessing game and tell you exactly what that plant was and where in your garden it will thrive.
All you have to do is submit a picture to an app called "Garden Answers," and you'll immediately receive plant names and information. This app also lets you ask questions of experts and get help diagnosing plant diseases.
An app called "Flower Checker" has the same plant identification goal, but the answers to your submissions come from live botany and horticulture experts. Identifications take slightly longer than Garden Answers since the responses are not computer-based, and it requires a small subscription fee.
Growing Guide: From Seed to Spoon
"From Seed to Spoon" is a unique gardening app that organizes fruits, vegetables, and herbs by their health benefits. Add plants to your custom garden list to keep track of planting and harvesting dates, log care and progress, and take notes. Read growing guides specific to each plant and find helpful information about harmful pests and beneficial bugs.
Care Calendars and Tracking: SmartPlant and Planta
How many times have you found yourself examining the calendar, trying to remember how long ago you planted, fertilized, or watered? The app "SmartPlant" solves this problem by providing a personalized calendar outlining care requirements for each plant in your garden. SmartPlant also doubles as a plant identifier.
"Planta" works similarly but is specific to houseplants. Caring for indoor plants can be frustrating because of the varied light and water requirements. Thankfully, Planta simplifies the process by organizing rooms based on their light conditions and setting reminders for each plant's care tasks.
Get Social with Garden Tags
For a gardening app that doubles as a social media platform, check out "Garden Tags," where you can share pictures, advice, and tasks with followers and contribute to a collective encyclopedia.
Don't forget to check out our blog on landscaping apps, coming up next.